Gameday Tampa Bay
August 14th, 2021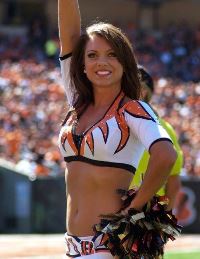 Preseason Game 1
Bengals at Bucs
Kickoff: 7:30 p.m.
TV: WFLA-TV Channel 8. (Game will also be broadcast in various TV markets throughout Florida and Alabama. Check your local listings).
Streaming: Fans may stream the broadcast from Buccaneers.com or on a mobile device using one of the following: Buccaneers official app or Yahoo! Sports app. Geographic restrictions apply.
Radio: Buccaneers Radio Network WXTB-FM 97.9 in the Tampa-St. Petersburg region; WVFT 93.3 FM in Tallahassee (Transmisiones de radio en español en WTMP-FM 96.1 y WMGG-AM 1470 en Tampa); SiriusXM Channel 228 (Bucs broadcast).
Weather: It is summer. It is Florida. But per AccuWeather.com, the Bucs and fans may luck out on the rain. Kickoff temperature should be 84 and is expected to drop below 80 in the fourth quarter. There is a less than 37 percent chance of rain except at game's end where it rises to 47 percent.
Odds: Per BetMGM, as of 2 p.m. Saturday, Bucs -6; 33.5-under.
Outlook:  The goal of any worthless preseason game is no injuries. If Joe had to put a value on any preseason game, as much as it pains Joe to type this, then Joe would love to see Joe Tryon blow up Bengals quarterbacks (Joe Burrow is not playing). Of course, do the Bucs want Tryon to show his poker hand in a preseason game so the Cowboys can get tape of him? Unlikely. And Joe would love to see Jaelon Darden do well both in the return game and at receiver. Also, Joe wants to see the progression of Tyler Johnson. He stupidly came to training camp out of shape but has slowly gotten better and better each week in camp. He could be on the bubble if he stinks the joint up. The rest of the team? Joe saw enough last year. 🙂
The Last Word: Please Bucco Bruce Arians, get your starters off the field as soon as you can.
---
Enjoy TAMPA TWO, presented by Converged Technology Professionals.
Preseason Game 1 is on the docket, and more. More fun from The Identity Tampa Bay & Joe.