Camp Cupcake Day 19 Practice Notes
August 18th, 2021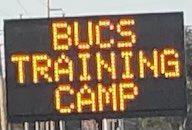 It almost had a gameday feel to it.
Yes, training camp practice (Camp Cupcake) had a very different feel today. Joe noticed it would be different while driving southbound on Himes Avenue and was first in the left turn lane to go eastbound on MLK to get to One Buc Palace.
All of a sudden, three screaming Tampa Police Department squad cars, lights flashing, sirens blaring, come swooping in and blocked traffic at the intersection. The cops jumped out to direct traffic.
Then came more squad cars, lights flashing, sirens roaring. And then Joe saw a fleet of buses. Ah, ha. It's the Titans.
Big crowd on hand. Just about everyone it seemed who could get off work wanted to see the controlled scrimmage/practice between the Bucs and Tennesee.
Even the practice was much crisper. No one dragging tail. In fact, the teams got so much work in, practice ended maybe 20 minutes early.
There were even some celebrities at practice today including Peter King and Albert Breer.
Joe can say this: In goal-line situations when the Bucs had the ball, the Bucs need some work. Against their own teammates, the goal-line offense was just fine.
Today against the Titans? Tom Brady and his receivers struggled in goal-line drills to make connections.
* Tom Brady tries to hit Chris Godwin over the middle and it was nearly picked.
* Next play, it's foot-rubbing, car-littering Rob Gronkowski over the middle. He is open in space and pulls the ball in and receives a loud applause from the crowd.
* O.J. Howard, from wide left, comes in for a Brady pass but he can't secure it.
* Kyle Trask on two straight plays throws short to Jaelon Darden on the left sideline. The first pass Darden catches it. The second pass, Darden dropped it.
* Trask tries to throw to Jerell Adams on the left side but it is too low.
* Trask throws left against for Codey McElroy who comes back for the ball from the left side. The throw was low but McElroy was able to go get it. Good coverage too by the Titans.
* Brady splits two defenders with a pass and it lands nicely into Godwin's hands.
* Brady tries to throw over the middle and it is picked. The Titans' defensive players who were on the sidelines watching erupt.
* Blaine Gabbert throws to Tanner Hudson along the left sideline and Elijah Molden, the rookie out of Washington, nearly picked the pass off.
* Adams gets open over the middle and Gabbert hits him for a completion. Titans linebacker Monty Rice from Georgia got hurt on the play and needed two trainers to help him off and he barely walked off even then. Later, Joe saw Rice get carted away.
* Darden takes a handoff on a jet sweep from right to left but there's no room to run.
* Scotty Miller runs a crossing pattern from right to left but Brady led him too far. Incomplete.
* Brady pumps and then dirts a pass at Ronald Jones' feet.
* Brady tries to connect with Darden in the right flat but the ball is batted down.
* Titans linebacker Jan Johnson out of Penn State is a large man. He's listed at 6-4, 231 but looks much bigger than that.
* Ke'Shawn Vaughn runs right and there is nothing there.
* Bucs tackle Jake Benzinger shoves Rashaan Evans nearly halfway across the field on a block.
* Darden catches a pass in the left flat from Gabbert and tries to weave his way through defenders. Darden ran a lot more than yards gained on the play.
* Red Zone! Gabbert connects with Antonio Brown in the far left corner.
* Brady to Darden in the left flat.
Brady to Gronkowski on an almost exactly play goes over the middle and Brady hits Gronk. But the veteran tight end bobbled the ball, tipped it in the air and it was nearly picked.
Bucs defense
* Ryan Tannehill throws to the left sideline and Jamel Dean is waiting.
* Sean Murphy-Bunting was all over Chester Rogers as SMB breaks up the pass.
* Tannehill goes back to pass and if this was a ballgame, Ndamukong Suh would have crowned Tannehill.
* Tannehill aims for Rogers again down the right side and SMB bats it down.
Goal line offense (Obstructed view)
* Bucs offense struggled here. The lone bright spot Joe saw was Gabbert hitting Antonio Brown in the far left corner of the end zone.
Red zone offense
* Gabbert rolls left and finds Tyler Johnson with a big catch on the goal line. Johnson gets up and spins the ball like a top in celebration. Is that now taunting? Joe didn't see any flags from the zebras.
* Gabbert again tries to connect with Johnson but this pass is too low to the left.
* Gabbert to Adams for a score on the right side.