Camp Cupcake Day 16 Practice Notes
August 12th, 2021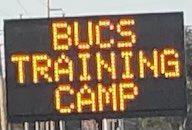 A very different practice today during Day 16 of Camp Cupcake.
Media types were allowed to sit in the bleachers for a change because the practice was closed today to season ticket holders and special interest groups. We've known since earlier this summer that Bucs fans who don't belong to select team-favored special interest groups or who cannot afford season tickets have been deemed by the Bucs as unworthy and undeserving of stepping foot on One Buc Palace soil now that the team is finally a winner.
So with a game coming up on Saturday, Bucs Super Bowl-winning coach Bucco Bruce Arians decided to take it easy on his team in the broiling morning sun. No hitting today and at times, the team was going maybe 75 percent. It was a step above a walk-through.
A certain Bucs backup quarterback got a lot of snaps today. More to come. So let's dive in.
* Tom Brady early in the practice speaks to the running back group. It is clearly a teacher-student moment. All the running backs were listening and staring at Brady. Mr. Seven Rings was doing all the talking. It didn't appear to be confrontational or combative at all. Running backs coach Todd McNair stood next to Brady facing the players. He periodically nodded his head up and down as Brady spoke.
* 11-on-11: Ronald Jones gets massive yards up the middle and on the next play, so too does C.J. Prosise. But since the Bucs aren't hitting today, Joe likely could get five yards a crack.
* It sure seems like the defensive linemen are not even going 3/4 speed. Offensive linemen aren't going full-bore either.
* Ryan Griffin connects with Jaydon Mickens along the right sideline for a nice catch.
* Brady hits Chris Godwin over the middle. Next play, it's O.J. Howard's turn over the middle for a nice chunk of yards.
* Interesting: Griffin connects with Jaelon Darden on a slant pass from the left side. Imagine what this guy could do if he makes a linebacker miss on a slant? Do the Bucs play the Texans this year?
* Kyle Trask waits, waits, waits, pump-fakes… and pulls the ball down and bolts up the middle.
* Trask is getting a lot of snaps this morning.
* Darden runs about 12 yards down the left hash and then comes back and is open but Griffin cannot hit him.
* Griffin with a high throw but a big gain to Cam Brate down the left seam.
* Under center, Griffin bobbles the snap and puts the ball on the ground. He recovers to get rid of the pass but had there been hitting he very likely would have been sacked.
* Red zone! Brady hits Mike Evans along the left side. Smooth.
* Brady aims for Scotty Miller in the far right corner of the end zone and it is a touchdown.
* Blaine Gabbert throws to the end zone on the left side and connects with Codey McElroy.
* While the backups are getting some snaps in red zone drills, Brady can be seen near midfield taking snaps from Robert Hainsey, who is on floppy hat patrol. The two work on snaps both from center and in shotgun. Joe was told after practice that Brady was helping Hainsey learn Brady's cadence. Hainsey has been out with a mysterious injury which is likely why the Bucs re-signed the Earl of Watford.
* Griffin with a perfect throw over the middle to Tanner Hudson.
* Trask connects with Josh Pearson along the backline for a score.
* Trask is now working with the big boys. He hits Evans for a score and connects with Godwin on a crossing pattern from left to right, just inside the goal line.
* Trask to Miller in the corner… but Miller couldn't pull the ball in.
* Brate catches another pass from Griffin, this time on the right side.
* Brady throws deep to Evans along the left sideline and it is another of those biscuit-in-a-basket throws. Sean Murphy-Bunting was helpless even though he had decent coverage.
* Brady throws deep to the right for Darden and it is complete.
* Gabbert lofts a rainbow to Hudson for a touchdown.
* Jerell Adams catches a ball over the middle from Gabbert. Sitting up in the bleachers, Adams seems to be much bigger of a target than he appears when watching from the sidelines.
* Gabbert throws to Miller along the right sideline and then hits T.J. Simmons in traffic over the middle.
* Trask threads the needle over the middle to Travis Jonsen and then connects with De'Quan Hampton over the middle while being double-covered.
* Brady to Evans along the left sideline for a toe-tap catch. Jamel Dean had no shot.
* Don't see this too often: Brady tries to throw over the middle to Hudson but the ball ends up in the dirt just in front of Hudson's feet.
* On the next snap, it's the same play but this time it is Miller who is the target and he brings the ball in. A little more accurate of a throw, too.
* Giovani Bernard catches a Brady pass on the right side, turns upfield, and is gone.
* Brady to foot-rubbing Rob Gronkowski down the left seam. These guys probably complete this pass in their sleep.
* Brady hooks up with Jonsen down the left hashmark and the ball is just over Chris Wilcox's head.
* Brady tries to get a pass to Miller but Nate Brooks knocks the ball away.
* Bucs Super Bowl-winning coach Bucco Bruce Arians is not happy about that last play. Joe cannot make out what he's hollering or who is getting their arse chewed but Joe did make out the word "m@therf@cking" used.
* Gabbert hooks up with Darden down the right hashmark.
* Brady again can be seen on the side working on snaps with Hainsey.
* Trask connects with Tyler Johnson deep down the right side.
* Griffin misfires on a pass to Godwin down the left sideline.
* Darden runs left to right and takes a handoff on a jet sweep.