Bucs Training Camp Notes Day 11
August 6th, 2021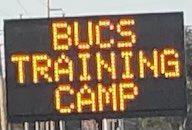 Wasn't nearly as comfortable this morning as yesterday almost was. Summertime in Florida returned, as did the sun.
* Giovani Bernard always does a Doug Martin. Joe remembers how Martin, coached by former Bucs commander Greg Schiano, would continue his run downfield even after a "tackle," when the play was blown dead. Bernard does this on every touch.
* O.J. Howard drops a Tom Brady pass in the left flat.
* Brady launches a pass down the left sideline for Mike Evans and the pass was just out of his reach.
* Brady double-pumps and throws to Tyler Johnson short right. But on this play, Johnson doesn't like the ball in his hands. Drop.
* The Bucs are having a bad case of the dropsies early on. Doesn't matter who the quarterback is.
* Tanner Hudson goes down the right seam and Brady targets him but veteran Ross Cockrell climbs the ladder and picks the ball off before Hudson had a shot at it. Joe thinks it's pretty much a done deal that Cockrell, who can play both safety and corner, will stick on the final-53. That is unless he totally gets lit up in preseason games. Cockrell hustles; he works; he makes plays.
* Brady goes deep down the right numbers for Johnson and he cannot pull it in. Johnson begins doing a Keyshawn Johnson stunt with his right arm waving up and down wanting a flag. Unlike the NFC title game at Green Bay, no one is buying his sales pitch today.
* Brady goes right back to Johnson, this time in the right flat. But there are a bunch of defenders waiting to bottle up Johnson.
* Travis Jonsen bobbles a pass and drops it.
* Seven-on-seven! Good ol' Chris Godwin. Brady apparently is getting tired of receivers dropping passes and he goes for Godwin along the right sideline. Of course, Godwin catches the ball. End of the dropsies.
* Scotty Miller catches a pass from Brady along the left sideline but he has a foot out of bounds.
* Brady connects with Howard on a pass short to the right.
* The very next play, Blaine Gabbert throws the exact same pass, this time it is to Codey McElroy.
* Johnson catches a Brady pass down the left seam.
* Brady again goes deep down the left sideline and again it is incomplete. Joe isn't sure if the Bucs defenders squeezed the route on Evans or if it was just underthrown. Dee Delaney and Cockrell were defending.
* Brady connects with Miller along the left sideline.
* Brady and Goodwin hook up again on the right side.
* Ke'Shawn Vaughn catches a pass from Kyle Trask on the right side.
* Jonsen, on a crossing route from left to right, catches a pass that hits him right in the numbers as he reached midfield. Trask did the throwing there.
* Red zone! Jerell Adams catches a Gabbert offering on the left side.
* Gronk and Brady make it look too easy as the pair join forces for a can of corn catch towards the far right corner of the end zone. How easy? Gronk was back-pedaling when Brady released the ball.
* Brady aims for the left corner targeting Bernard and it's a touchdown.
* Brady tries to link up with Antonio Brown in the far left corner but Jamel Dean was up for the task. Incomplete.
* Adams runs a crossing pattern along the backline from left to right and skies high to bring in a pass from Ryan Griffin. This despite being well-covered. Coaches notice catches like that.
* 11-on-11! Hudson on a crossing pattern from left to right catches a Gabbert pass at midfield.
* It's just a matter of time: Gabbert throws for Hudson on the left side and safety Javon Hagan appeared to have a pick. But no! He doesn't like the ball in his hands.
* Nice pass: Gabbert hits Jaydon Mickens along the left sideline deep but rookie Chris Wilcox prevents Mickens from housing it. With Wilcox as the roadblock, Mickens cuts in and weaves through the defense and crosses the goal line at midfield.
* Troymaine Pope is wide@ss open in the right flat and Trask gets the ball to him. Pope turns this into a touchdown.
* Trask tries to go to the right sideline and Cameron Kinley breaks up the pass.
* Tyler Johnson skies high to grab a Griffin pass. Joe heard someone (not sure if a teammate or a coach) holler, "Nice catch one-eight!" When it starts to creep into your head Johnson may be a bubble player, he makes a huge catch to change your mind.
* T.J. Simmons with a big gain down the right sideline on a pass from Gabbert.
* De'Quan Hampton with a strong catch in traffic from Gabbert.
* Johnson makes a huge gain by catching a Gabbert pass over the middle.
* Jailbreak rush flushes Gabbert out of the pocket to his left and he tucks and runs straight up the middle.
* Again, Johnson with a catch over the middle from Gabbert. Johnson is on fire right now.
* He may be a naval officer, an Annapolis grad and a first class human being, but it seems there is a reason Cameron Kinley is not a receiver. He had a pick in his breadbasket on a Griffin pass but Kinley couldn't hang on.
* Monster gain by Tanner Hudson on a pass from Griffin down the left sideline.