53-Man Roster Is Set; Bucs Cut A Draft Pick
August 31st, 2021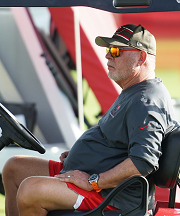 No real surprises on the Bucs' official (for now) 53-man roster.
Cornerback/special teams hopeful Chris Wilcox and rookie seventh-round pick was cut, which was no surprise. The rest of the draft class will stick (for now).
Joe wrote about some cuts earlier today, Super Bowl returner Jaydon Mickens, veteran I-never-play backup QB Ryan Griffin, among others.
The Bucs have just 10 new players, which is incredibly light turnover. Hell, 20 new players would be light.
One newcomer is rookie kicker Jose Borregales, who is holding Ryan Succop's place while he remains on the COVID list. Safety Chris Cooper and cornerback Dee Delaney were preseason standouts and made the team. Cooper opened a few eyes on special teams.
Kyle Trask is your third-string quarterback, in case Gators fans forgot. And receiver/special teamer Justin Watson is in the physically unable to perform list. He's not expected to be healthy for months.
Is it kickoff yet? Joe is very antsy.