Two Second-Year Players, Two Different Arians Takes
July 31st, 2021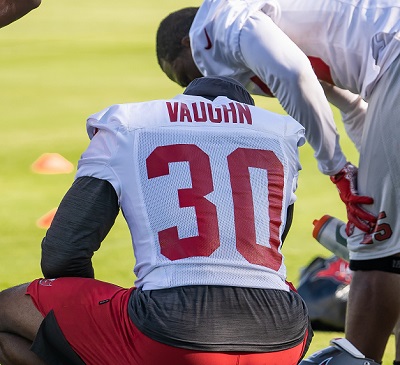 If there are serious position battles on the Bucs, they lie at running back and among the bottom of the receivers' depth chart.
And two second-year players are in the mix in those areas, running back Ke'Shawn Vaughn and WR Tyler Johnson.
Bucco Bruce Arians was asked about both after today's first-in-pads practice and shared sort of contrasting views.
"Ke'Shawn's been spot on. You know I really like where he's at," Arians said, adding preseason will reveal a lot about Vaughn's progress. But "he's where he needs to be."
On Johnson, well, "He came back a little heavy and he's getting back in shape, which is his own fault," Arians said, noting Johnson has made big plays and the Bucs look forward to him returning to game fitness.
Joe's not about to criticize a guy for mowing down too much food or getting soft, two things Joe is good at. But damn, that's a bad decision by Johnson on a team with a loaded receivers room and a speedy rookie at the position, fourth-round pick Jaelon Darden.
Vaughn and Johnson certainly are guys to watch closely through August.
As Joe shared after leaving the White House with the Bucs, there's a lot of good feelings about Vaughn among Bucs' power brokers.