Bucs Training Camp Notes Day 5
July 31st, 2021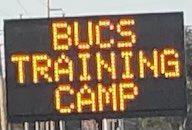 A toasty one today, though it was broken up by cloud cover and a light rain halfway through for a couple of minutes. And there was a breeze. So not terribly bad.
Anyway, time for some highlights.
* Hitting! The pads came on for the first time. Players liked it. And Bucs Super Bowl-winning coach Bucco Bruce Arians really liked it. He said good players elevate themselves when they hear the noise of pads popping in practice. There was a lot of juice out there today and Joe thinks a big reason for that was the pads.
* Big crowd on hand today, which you would expect for a weekend practice. And they were noisy. That added to the fun atmosphere.
* Lotta national coverage today from three of the five NFL broadcast partners. Poor Jeff Darlington. The Seminole native and current BSPN NFL reporter was apparently required to wear a coat and tie. So Darlington shows up in a gray suit — and the heat index was 99 at the start of practice! C'mon, BSPN! Would Darlington have lost an ounce of credibility if he wore a polo shirt? Whatever jackass producer in Bristol forced Darlington to do that, they ought to ship the guy to Tampa overnight and pull a Commanche stunt on him where he has all fours tied to a stake, spreadeagled on the ground and let him roast in the brutal Florida sun for a full practice. Still, despite being in the sun for some three or so hours, Darlington looked cool as a cucumber (but he had to be burning up in that suit).
* NFL Network did a live broadcast from Bucs practice with Andrew Siciliano and Willie McGinest. And, prickly Pete Prisco of CBS Sports was there again as well. NBC? Well, they're too busy these days broadcasting junk sports for people who don't like sports. FOX? Do they even have a sports department?
* As players are warming up, rookie Kyle Trask is standing right in front of the media tent and throwing dimes. Of course, it's to uncovered receivers running the same routes over and over. Still, it's interesting to Joe how one's perspective changes when you view a player from a different angle. This is the first time Joe saw Trask throw from behind him just a few yards away.
* Ke'Shawn Vaughn goes in motion from left to right and Tom Brady hits him in the flat and Vaughn does the rest and scores.
* This is kinda cool: Brady begins to audible and at one point he hollers "Let's go!" Upon his barking instructions, tight end O.J. Howard, who was tight to the right tackle, moved out wide right and Playoff Lenny moved up to the slot. The play ended up going to Mike Evans at the left sideline.
* Blaine Gabbert just had an ugly day. More on that later. On this play, Gabbert tried to hit the immortal Cyril Grayson on the left seam. But defensive back Dee Delaney was all over him and on the low pass even got his hands on the ball. Delaney, however, was peeved and hollered on his way back to the defensive huddle, "G*d damnit!" thinking he should have had a pick-six.
* It's a Chris Godwin Special. What is that? Catching the ball in traffic. This time Brady finds him over the middle and despite being covered, he hauls in the pass, spins away from defenders, and is off to the races.
* Gabbert launches a real pretty pass way down the right sideline. Looked like one of those NFL Films' tight spiral shots. Problem: There were no white (offense) jerseys anywhere near the ball.
* Really bad pass by Gabbert. Not sure where he was throwing, again, no white jerseys around and Mike Edwards was right there with a pick. It was as if Edwards was the intended target. Gabbert hit him in the numbers.
* How did he do it? Sometimes, Brady blows Joe's mind with his accuracy. Here was an example: Mike Evans was surrounded by four defenders over the middle and three were in close coverage. Somehow, Brady found a hole and threaded the needle.
* Brady runs a couple of steps to the left, parallel to the line, and hands off to Giovani Bernard for a big gain.
* Red zone drills! Brady hits Playoff Lenny to the right for a score.
* Now the result wasn't anything special but the defensive play was pretty cool. With the ball on the left hashmark (right hash for the defense) Evans went in motion from right to left. Devin White trailed him running left to right (for the defense). Jamel Dean was tight to the line. When White reached a step or two past Ryan Jensen, White yells, "Back-back-back" and Dean immediately back-peddles to reposition deeper. When the ball is snapped, Evans ran left and was double-covered by White protecting the short pass and Dean protecting the long pass. Brady eventually threw the ball away. Still, Joe liked how the defense reacted to Evans in motion.
* Brady lofts a pass to Bernard along the right sideline at the goal line but Bernard couldn't haul it in.
* Seven-on-seven red zone! Brady hits O.J. Howard for a score to the right and the crowd cheers in approval.
* Brady throws to a diving Cody McElroy, who had the ball go off his hands along the left side.
* Brady goes back to Howard along the right side at the goal line for another score.
* Brady hands off to Playoff Lenny and rookie K.J. Britt blasts him right away.
* Brady to foot-rubbing, car-littering Rob Gronkowski in the back of the end zone for a score.
* Jaelon Darden skies along the right sideline to grab a Gabbert offering.
* Brady tries to hit furniture tossing, bicycle-throwing Antonio Brown over the middle but Dee Delaney was all over him.
* Brady to Jerell Adams in the back of the end zone but Adams couldn't hang on.
* Interception! Devin White picks off Brady on a pass over the middle and damn near houses it. White is tackled at the six-yard line.
* Same ol' Godwin. He takes a pass to the left from Brady on a screen and turns that into a score.
* Brady throws a low ball to Howard who pulls in the catch along the left sideline.
* Maybe the play of the day (right up there with White's pick). Brady throws a bomb to Brown down the left seam and the pass drops over Brown's shoulder right in his hands and Brown was gone! That was about as perfect of a play as you will see. Looked like a video game. This gets the crowd on its feet.
* Another bobbled snap! Joe has been to every practice so far and a day hasn't gone by where Joe hasn't seen Gabbert bobble a snap. This time it was from center Robert Hainsey.
* It goes from bad to worse for Gabbert. He then throws an awful pick to Antonio Hamilton. Gabbert is having his worst practice Joe can remember.
* Brady throws a screen to the left for Bernard and he turns it into a big gain.
* Evans does the toe-tap on the left sideline from Brady, as Evans does so very well.