Troy Aikman Claims Tom Brady Was Fibbing
July 1st, 2021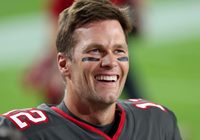 So, apparently Tom Brady is less than honest away from press conferences as well.
That's the word from FOX analyst Troy Aikman. The current Hall of Fame quarterback was speaking about the Bucs' future Hall of Fame quarterback recently. And Aikman, known these days more for regurgitating the line "make a play" 20 or 30 times each Sunday than winning Super Bowls with the Cowboys, says he caught Brady in a very public sales job.
Remember earlier this year Brady appeared on a teleconference call begging his fellow NFLPA members to demand less spring practice time, in part because baseball pitchers don't practice throwing fastballs in December?
Well, Aikman appeared on the "Flying Coach" podcast co-hosted by Sean McVay and Peter Schrager recently. There, Aikman suggested he caught Brady selling a big con to his fellow association members. Aikman is pretty convinced Brady perpetrated a well-thought-out, premeditated swindle, details John Breech of CBS Sports.
"I was surprised to hear Tom Brady say 'Yea, the players need more time off,'" Aikman said. "He was very vocal. It shocked me, because I know Tom well."

After thinking about Brady's comments though, they made sense to Aikman: The Hall of Fame QB thinks Brady made them so that he could get a competitive advantage over other teams.

"And then I realized, that's the greatness of Tom Brady, because I can assure you, he's not taking those days off and that team is not taking those days off, and so he views it as a total competitive advantage," Aikman said. "If teams are practicing less and he's practicing more, that's going to give him a leg up on the competition, and I think that was really the whole motivation in his comments."
Now that makes all the sense in the world. Those who know or have worked with Brady swear the guy is a fanatical workaholic, always seeking an edge.
Even at the time Brady made that call, folks who know Brady were muttering on social media how out of character it was for him to advise players to pull back on preparation — at the same time Brady was holding workouts with Bucs' teammates at the Yankees' minor league complex.
Some might say Brady was backstabbing his fellow NFLPA members. Joe wouldn't argue.
Still, Joe likes the gamesmanship. And this is one of the best edge-seeking stunts Joe has heard from an athlete in some time. If Brady did what Aikman claims, that is borderline dirty.
And Joe friggin' loves it!
How Belicheat of Brady.