Tom Brady Talks Preseason Mystery
July 30th, 2021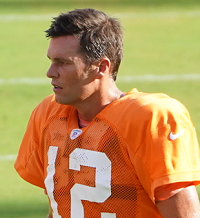 It may surprise some fans to learn that Tom Brady has attempted 80 preseason passes since turning 40, and that's with no preseason last year.
Today, Brady was asked at One Buc Palace about his preseason workload next month as a 44-year-old. His response was that he has yet to go there with coaches so it's an unknown.
Joe heard local media types saying today that there's no way Brady plays in preseason. But Joe would wager at least $100 that Brady does. Brady runs Brady. Everyone paying attention knows that.
Obviously, Brady has felt previously that getting his feet wet in preseason matters, otherwise he would have sat out in New England in recent years.
Joe thinks the mess that was the Bucs offense in the season opener last year, after no preseason, might also factor into Brady's thinking on 2021.
"I always like playing as much as I can," Brady said.