"It Was Just A Horsesh*t Practice"
July 30th, 2021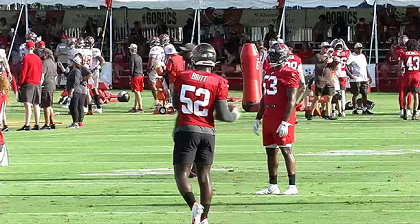 The sun stopped shining at One Buc Palace today.
Bucco Bruce Arians was looking forward to his team responding after a day off yesterday, but Day 5 of training camp had Arians saying afterwards that "it was just a horsesh*t practice."
The pads come on tomorrow for the first time, so one might say the horsesh*t will get real then.
Tom Brady himself apologized via media for a "shi**y" practice.
NFL Network will be in the house tomorrow with an army of cameras and reporters and analysts, and Joe expects a full weekend crowd of fans. If that doesn't spark the Bucs, then Joe will worry a bit. But a bad day today is no big deal.
Arians called out both sides of the ball, noting drops and defensive failures on third down, among other things.
---
Enjoy today's Ira Kaufman Podcast.