The Next Level For Mike Evans
July 8th, 2021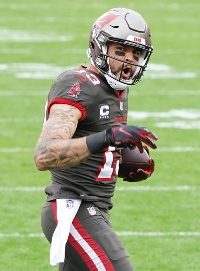 Yes, Mike Evans is a superstar. Heck, his average of 78 yards receiving per game ranks seventh in NFL history.
Evans  also owns the record for consecutive seasons of 1,000 yards or more receiving. It stands at seven and he's gunning for eight.
With all that and a Super Bowl ring before his 28th birthday next month, it's obvious that Evans is on a Hall of Fame track. But there is still room for improvement.
Tom Brady sort of illustrated that in the new episode of In The Current, the Bucs' in-house summer video series at Buccaneers.com.
In a scene featuring the Bucs' Week 17 home game, with Evans just shy of another 1,000-yard season, there was chatter about how driven Evans was and that he was an angry worker on that day.
"Man, he was determined to get it. He was so pissed off in that game," Tom Brady said. "He was how I love seeing Mike play. When he's focused and in the zone, I mean he's unstoppable."
That got Joe thinking. Hey, if Brady says Evans plays better when he's pissed off and dialed in hard, then it's time for Evans to hear the calling and be like that more often.
At heart, Evans is a true nice guy. That's why he's been the Bucs' nominee for the Walter Payton award. But Joe and other Bucs fans also have seen plenty of Evans' fiery side on various levels.
Joe hopes Evans can channel more of that fire Brady loves so much. It might be what it takes to propel Evans to another level.
He certainly has the talent to deliver again the kind of workhorse, manbeast season he had in 2018.