History Says Tom Brady Will Play Plenty In Preseason
July 11th, 2021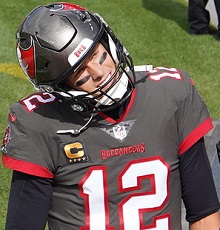 Guess how many preseason-game passes Tom Brady has thrown as a 40-something year old man.
The timeline encompasses three preseasons in New England: 2017, 2018 and 2019. (Of course, preseason was cancelled last year because of The Sickness.)
The answer is a whopping 80 passes. Yes, Brady attempted 80 passes in those three Augusts for the Belicheats — as an old-man QB with nothing to prove.
Coming off his sixth Super Bowl win, Brady played Game 3 of the 2019 preseason and was 8-for-12 for 75 yards. A year earlier, Brady played in two preseason games and was a combined 31–for-44 for 274 yards while lining up against dangerous pass rushes of the Panthers and Eagles. He also played in two preseason games in 2017.
Joe is happy to go on record begging the Bucs to put Brady in bubble wrap for the preseason, though Joe is confident Brady will demand to play and his request will be honored.
It feels unthinkable to put a 44-year-old legend on the field in a meaningless game, but somehow Brady and the coaching staff surely will convince themselves it's important. Again, Brady was out there after his sixth ring two years ago.
Joe loves how the football gods have smiled on the Bucs over the past year and a half.  Joe's not a superstitious guy, but it feels like that great fortune shouldn't be tested in August.