"Step In For B.A. And We'll Keep It In Tampa"
July 5th, 2021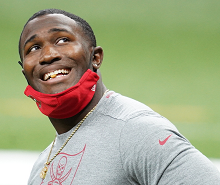 The cornerstone player of the Buccaneers' future has very strong ideas about what that future should look like.
Yeah, Buccaneers savior linebacker Devin White has a strong opinion about everything, it seems. But this one piques Joe's interest because it's about the next Tampa Bay head coach.
White was talking weeks ago with The Schultz Report and was gushing over Todd Bowles' coaching prowess and style.
He offered this nugget about his defensive coordinator's process and future.
"He don't just write stuff and say, 'This is how we're going to stop him. This is what they like to do,'" White said of Bowles. "He always go and pull up clip after clip. Like if he say this is the way Travis Kelce like to run when he at this position, he's going to show us 15 or 20 clips of him doing it at that position. So not only are you hearing it, you're actually getting a good visual of it. You know, you're seeing it on the screen, it's in your check folder on your iPad to go back and watch at home for yourself. That's some of the best things that he do. He break it down from the film to him talking about it; it all go together. … "The reactive part on us in practice is so easy because we done seen it so many times — we done repped it, we done walked through it, he broke it down so good. That's what he's doing.

"Yeah, he should have been a head coach. But I think he needs to wait for [Bucco Bruce Arians]. Step in for B.A. and we'll keep it in Tampa when B.A. ready to shut it down; it'll be an easy transition."
Good stuff from White. As for Joe's thoughts on Bowles as the next head coach, Joe thinks the next head coach should be the best available candidate for the team's personnel and vision. No, Joe can't say that's Bowles with any certainty, especially after what Bowles delivered in New York. Bowles' last two offensive coordinators with the Jets were an abomination, and it's hard to blame that on management.
Joe just hopes Team Glazer is doing everything it can now to get to know Byron Leftwich and Bowles so the organization has an incredibly firm handle on the strengths and weaknesses of each potential Bucco Bruce Arians successor.