"So Much Of It Is Luck"
July 26th, 2021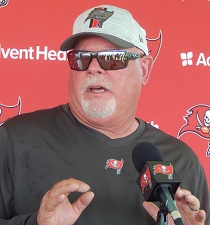 This may not be what Bucs fans want to hear as they flex their muscles and tell the world on social media that Tampa Bay is winning back-to-back Super Bowls, baby.
Players are out there at Bucs practice grinding way on Day 2 of training camp, and Bucco Bruce Arians is cracking a whip, even instilling tough rules on media in attendance — no video or even still photos after the typically uneventful first 30 minutes of practice.
But despite all that hard work and roster-building and strictness, Arians was quick to say yesterday that so much of repeating as champs is out of his control.
"You know, so much of it is luck. You gotta stay healthy," Arians said. "If you start losing guys, starters, your chances go down. You gotta have some luck."
The question posed to Arians came from Sage of Tampa Bay Sports Ira Kaufman, the iconic JoeBucsFan.com columnist. Ira asked Arians whether he had consulted with any colleagues who won back-to-back championships for insight into what it took.
Arians replied that he had been on Super Bowl winners returning the following season (not eventual back-to-back-champions) and he seemed to downplay that there might be a secret sauce to taste in order to help the Bucs repeat.
For Arians, it seems staying locked in on a forward-looking mentality, hard work and health is the road to another ring.
And a hearty dose of luck.
Over the years, Joe often has thought about the Bucs' 2005 NFC South champion team. Man, they had a lot of balls and calls bounce their way in the regular season, it seemed.
Luck matters every season, though Joe thinks it's very overrated. As the famous quote reads, "Luck is the residue of design."
It's today's new Ira Kaufman Podcast! Presented by the nationwide lifetime warranty on new and used vehicles at Bill Currie Ford.