Bad Spin On Bucs Receivers' Greatness
July 26th, 2021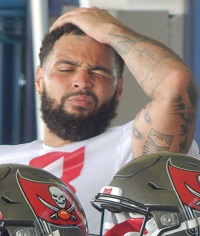 Most reasoned and seasoned NFL observers believe receivers draw pass interference calls, especially the great ones.
Mike Evans, for example, gets his share of calls on flailing defensive backs, as does Rob Gronkowski.
Evans got past the flagrant push-off habit he had early in his career and found ways to temper it and make it more referee-friendly. It's one of many ways he's grown his game.
NFL super-insider Peter King, however, appears to have a somewhat different perspective on defensive pass interference. Per his Football Morning in America column today for NBC Sports, King notes that pass interference calls are tied to the name on the quarterback's jersey.
Tom Brady "has drawn" a lot of calls, especially last year.
Tom Brady and the DPI. Brady drew the most defensive pass-interference calls (23) than any quarterback has drawn in the last 37 years. More grist for the officiating conspiracy theorists who think Brady gets Jordan-like treatment from the officials.
Reading this irked Joe. C'mon, Peter. The Bucs are loaded at receiver and tight end and defenses can't cover all that talent. That's why the Bucs got all those calls.
Sure, Brady might get preferential treatment from officials when it comes to taking hits from pass rushers, but on pass interference calls?
Joe thinks implying that is an injustice to the historic Bucs receiving/tight ends corps.