Sean Murphy-Bunting Shares His Buffet Of Injuries
July 27th, 2021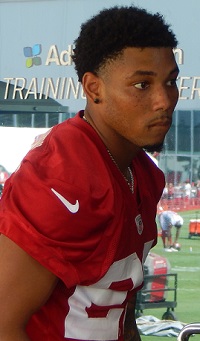 Tom Brady's injuries are always a mystery, and a lot of mortal players conceal their injury issues, too.
Today, Bucs cornerback Sean Murphy-Bunting peeled back the curtain on his.
It was ugly.
Last season, per Murphy-Bunting, he pulled a groin in week two, which led to a sprained ankle, and then he had another sprained ankle in the playoffs. Amidst all that fun, the Bucs' then-second-year man dislocated both his thumbs.
Better health overall came later in the season, and it's likely not a coincidence that Murphy-Bunting ripped off interceptions in three consecutive playoff games before getting shut out in the Super Bowl.
Murphy-Bunting said he's now "100 percent" and gave a ton of credit to the Bucs' training staff.
Yeah, lots of guys play through all kinds of issues, though you rarely hear a list laid out like Murphy-Bunting did today. Joe appreciated the candor. But Joe also wonders whether those thumbs will be a recurring issue.
"I have really bad thumbs," Murphy-Bunting said.