Rodgers Will Play; Thomas To Return For Bucs Games
July 27th, 2021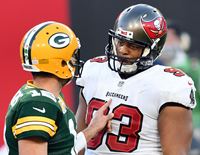 The hot chatter about Aaron Rodgers leaving Green Bay and news of Saints stud receiver Michael Thomas needing ankle surgery don't appear to be the Bucs-friendly buzz they were earlier this week.
Yesterday it was revealed that Rodgers will come to terms with the Packers and happily play under a reworked contract this season.
As for Thomas, NFL Network reported that he's expected back for Week 7; the Bucs play the Saints in Weeks 8 and 15.
Joe talked about the potential of Rodgers leaving and Thomas losing a season were big plusses in the Bucs' quest to repeat as Super Bowl champs. So it's only fair to put their return out here for all to consider.
Last year, the slimy Saints had the Bucs on the ropes in the NFC Divisional Round playoffs before Antoine Winfield, Jr. saved the day. But keep in mind Thomas missed the first half of that season, too.
Joe can't wait for the first Bucs-Saints game at the JameisDome on Halloween. Hopefully, the Bucs already have a two-game lead in the division and effectively put the Saints out of reach.