Mike Evans: "My Body Has More Juice"
July 26th, 2021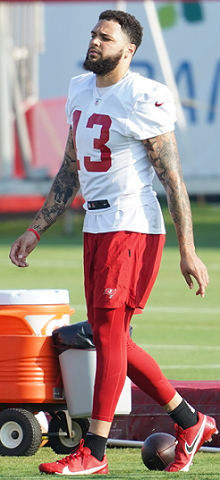 The greatest receiver in Buccaneers history had a firm answer to Joe's question.
Joe asked Mike Evans if he felt differently entering his eighth training camp this year, faster, leaner, anything?"
Evans turns 28 next month and it's safe to say he is squarely in his prime, considering his age and the lack of serious injuries through his career. For perspective, Julio Jones' last legendary season came when he was 29 years old.
"I feel like. you know, each year I get better. I improve my route running. My body has more juice," Evans told Joe. "I'm healthier every year. I just feel lighter. That's it, a little bit lighter."
This confidently expressed take from Evans just reinforces that fans should expect a monster season from him and a return to the Pro Bowl. It's Year 2 with Brady and if Evans stays healthy, Joe expects a more consistent season from Evans and about 1,400 yards receiving.
Fun fact: Evans should pass 1,000 targets in his Bucs career around midseason.