Red Zone Breakdown: Bucs Like To Pass
July 20th, 2021
It seems when the Bucs got the ball in the red zone, Bucco Bruce Arians preferred to put the ball in the air.
And Joe doesn't blame him one bit.
Rich Hribar of Sharp Football Analysis did a breakdown of team red zone plays from last season, and he had the Bucs as one of the top-passing offenses.
The Bucs had a total of 151 snaps from scrimmage in the red zone last season — 88 came inside the 10-yard line and 41 came inside the 5-yard line. In both categories, the Bucs preferred to put the ball in the air rather than run. Some 58 percent of the time the Bucs threw in the red zone. Only Minnesota had a higher number.
Inside the 10-yard line the Bucs threw 55 percent of the time. Inside the 5-yard line the Bucs put the ball in the air 54 percent of the time.
And why wouldn't they? While Ronald Jones has developed into a strong runner between the tackles, the Bucs' receiving corps is made for throwing in tight quarters.
Mike Evans can outjump just about anyone with his basketball skills. Rob Gronkowski has pretty much made his Hall of Fame career by catching contested passes, especially in the back of the end zone. Chris Godwin is as tough of a contested-catch receiver as you will ever see. Even Cam Brate has a knack for catching red zone touchdowns.
Joe is actually surprised the pass numbers aren't much higher inside the opponents'-20.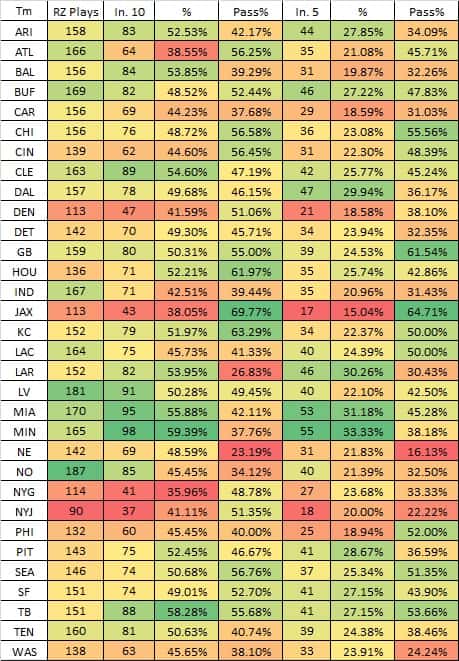 Another interesting stat to Joe is that a Bucs drive last year had a 39 percent chance of reaching the end zone. Of course, if the Bucs scored from 21 yards out or longer, that dirve didn't reach the end zone.
When the Bucs did reach the red zone, they scored touchdowns on 64 percent of the time, which was just OK.
Red Zone Drives