Ndamukong Suh And Tristan Wirfs Talk About Their Fight
July 1st, 2021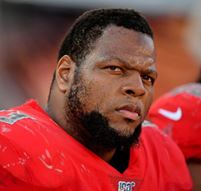 The trenches can be a very angry, testosterone-fueled place.
Per Bucs Super Bowl defensive tackle Ndamukong Suh, he's "a big dog on campus" at One Buc Palace and sometimes that means biting young pups.
The story comes from the latest edition of In The Current, the Hard Knocks-style production that lives at Buccaneers.com.
Suh and Wirfs locked horns at training camp last year. Suh called it "a little bit of a tussle." Wirfs called it "a fight."
Tristan Wirfs: He was lined up like head-up on me. And I kind of set down on me and he just kept trying to cross my face, so I just went to wash my him down, I guess he didn't like that. I remember we kind of like tied up a little bit, and next thing I know he ripped my helmet off.
Ndamukong Suh: He made a move to me and kind of pushed me. And obviously I'm a little bit of a big dog on campus, so I went back at him and grabbed him and was like, 'I'm not the one to do that with.' It was a good interaction because it got to make us a little bit closer. I kind of opened up our relationship."
The storytelling was set up by Suh talking on the bench to fellow defensive linemen Vita Vea and Patrick O'Connor in midseason about how Wirfs needs to get nastier.
"If Tristan can become a &!#*head, he would be great," Suh said. " … Way too nice. Like he needs somebody to like choke him out and then just turn [him mean]."
Then Vea replied to Suh with a recollection of their training camp fight that didn't make Wirfs mean.
Of course, the moral of the story is that nice-guy Wirfs went on to be second-team All-Pro at right tackle, and the second-best label might have been unfair. Bucco Bruce Arians said Wirfs not making the Pro Bowl was a travesty.
Plenty of nice-guy players have had legendary careers. Wirfs has dealt with the too-nice label in college and rightfully wrote it off as ridiculous.