Bucs Training Camp Practice Notes Day 4
July 29th, 2021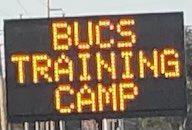 Rather than post the notes in the late afternoon yesterday, Joe thought he'd treat his morning readers as there is no underwear football training camp practices today at One Buc Palace.
* The Bucs changed around practice a bit, using only one field. And sadly, Arians took a page out of the Dirk Koetter book and lined up all the backup offensive players (or those who were not on the field) to create a human shield to block views. And where media are assigned/required to observe (in part because of NFL virus protocols), let's just say it's a challenge outside to see through 20 or so white billboards. At least in the Glazer Shed one can climb up in the bleachers.
* Yes, it is still underwear football season at One Buc Palace. It seems this weekend the pads will come on, possibly Sunday. Underwear football means football without the flags. The only equipment worn is are helmets and cleats. No hitting.
* Joe twittered out before practice that it appeared a good chunk of practice would take place in the Glazer Shed as storms were rolling in. Sure enough, half the practice was held indoors.
* Cool: Ronald Jones jukes a defender at the four-yard line and high-steps into the end zone.
* Tom Brady had a veteran day, as did foot-rubbing, car-littering Rob Gronkowski and Ryan Jensen. So Blaine Gabbert got a lot of work with the first team. Joe doesn't know if it was the pass rush or not, but Wednesday, Gabbert had a case of the happy feet quite often.
* Gabbert tries to hit Jaelon Darden along the right sideline but it is broken up by Carlton Davis. Darden got a lot of work in Wednesday with the first- and second-team offense. And he appeared to raise his level of play a little. Great sign for Darden; great sign for the Bucs; danger sign for Justin Watson. But caution: It's still underwear football where receivers tend to look good (Kenny Bell and Tommy Streeter say "Hi.")
* Giovani Bernard with a big run to the left.
* Tanner Hudson got a lot of work with Gronk, Cam Brate and O.J. Howard not practicing. Gabbert hits him near the goal line on a crossing pattern and Hudson's momentum was taking him out of bounds. Hudson tried to reach the ball over the goal line but it didn't appear he had long enough arms.
* Tight end De'Quan Hampton gets open in the end zone on the right side and comes back for a Kyle Trask throw for a touchdown.
* Ryan Griffin tries to hit the immortal Cyril Grayson in the back of the end zone but Nate Brooks gets a hand on the ball.
* Griffin tries to connect with Grayson once again, this time at the goal line and Antoine Winfield won't allow it. He breaks up the pass by popping the ball out of Grayson's hands.
* In a goal line drill, RoJo tries to run up the middle and the defense bottles him up.
* Griffin gets pressured and throws the ball into Glazer Shed end zone bleachers.
* Trask throws the ball down the center of the field in the end zone but the only player there is defensive back Ross Cockrell who gets the pick.
* The past two practices Joe Tryon has been flashing but not on this play. Left tackle John Molchon takes him out of the play at the snap. (Again, there's not supposed to be contact.)
* Tight end Cody McElroy with a huge gain down the left seam from Gabbert.
* Tip drill: Gabbert throws a pass in traffic and it is tipped around and Sean Murphy-Bunting comes away with it. All he does is get interceptions.
* Gabbert rifles the ball to the exact same spot and this time it is Winfield who gets a mitt on the ball.
* Tryon runs an inside stunt and has a clear shot at Griffin — but underwear football. No hitting!
* Darden comes down with a pass in traffic over the middle from Gabbert. Not bad for a little guy.
* Trask with a long pass to Jaydon Mickens over the middle and the pass hits him in the hands… and Mickens drops it.
* Hudson catches a Gabbert pass over the middle. It seems Hudson has bulked up since last season.
* Back-to-back passes for Mike Evans from Gabbert, over the middle in traffic and down the left seam.
* Gabbert is flushed to his left and just throws the ball away. Joe couldn't tell if the pressure was caused by Tryon or he if he was part of the pressure but he was on the field and so far Wednesday, Tryon had regularly gotten pressure on Bucs quarterbacks.
* Griffin fires to Darden down the left sideline who was wide@ss open. Touchdown.
* Again, Gabbert is flustered by the Bucs pass rush. Gabbert not having a great morning.
* Jerell Adams wide@ss open over the middle and Trask hits him. Touchdown.
* Darden zigs through traffic to score. Darden is putting on a show. This is his best practice as a Bucs receiver.
* Defensive back Antonio Hamilton just misses breaking up a pass for Scotty Miller down the left sideline. Miller caught the pass but appeared he was out of bounds.