Bucs Training Camp Practice Day 3 Notes
July 27th, 2021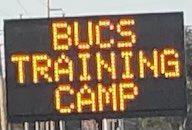 It wasn't as hot today as it was yesterday (broiling). That's not to say it was Cleveland in December. Rains just prior to practice helped cool things down a little (by little Joe means maybe three degrees) and the last hour of practice was under some cloud cover. It was still hot and steamy as Joe will explain later in a Mike Evans nugget.
* Yes, we are still watching underwear football practice. It may not be until Sunday before the Bucs put on the pads. For those unaware, underwear football is basically flag football without the flags. Players wear helmets, practice jerseys, shorts, possibly jocks, socks and cleats. That's it. Hitting is strictly verboten.
* Ronald Jones hits the hole and dashes on a long touchdown run. Think his 98-yard run against the Stinking Panthers only this was on the left side and not 98 yards.
* Tom Brady tries to hit Jaelon Darden along the right sideline but Carlton Davis does a Dikembe Mutombo and says, "No, no, no!" and bats the pass away.
* Darden is getting a ton of work with the first- and second-team offense. Yeah, he's made mistakes (keep reading for that). But Bucs Super Bowl-winning coach Bucco Bruce Arians said that is one reason he is out there so he learns. Joe has a hunch Justin Watson should be very concerned.
* Brady and foot-rubbing, car-littering tight end Rob Gronkowski were a big thing today. Brady targeted Gronk a lot.
* Brady sure does like him some Scotty Miller. He hits Miller along the left sideline for a nice gain.
* Tyler Johnson catches a pass down the right seam. Johnson, like Darden, is getting in a lot of work with the first- and second-team offenses. He sure seems to be better this year if not bigger. Remember last year he was hurt through much of training camp.
* Blaine Gabbert would have taken a coverage sack if this were live. No whistles were blown but Gabbert was back there a long while. He finally started feeling pressure and tried to run away from Devin White. Before White could get a "tackle," Gabbert literally tripped over his own feet and splashed on the ground.
* Gronk really doesn't do justice on TV. When Joe is standing on the field and witnesses first-hand Gronk going up against defensive backs, you realize just what a physical mismatch this guy is. Gronk is just friggin' huge.
* Gabbert hits Darden in traffic down the right seam. And then Darden breaks free. You can guess what happens when this guy gets loose and gets behind the defense.
* Tight end Tanner Hudson dives for a Brady pass and hits the ground hard. He is very slow to get up and walks gingerly off the field. He seems OK so Joe guesses the heat has gotten to Hudson (he's not alone, keep reading).
* Mike Evans outwrestles Davis for a ball down the right seam from Brady.
* Red zone work! Gabbert hits Hudson in the far right corner.
* Playoff Lenny barrels up the middle for a good gain.
* Now this is where it gets interesting. The team goes inside the Glazer Shed for seven minutes. Joe thought maybe the Bucs were working on something secret and didn't want fans recording it and posting the video on social media. We later learned Arians wanted to mimic halftime as the first two practices the Bucs were dragging their rear ends the last 30 minutes of practice. Arians believes the desired effect of having a halftime seemed to work. Players were a bit fresher at the end of today's practice he said.
* When the Bucs return to the field, the sun had mostly disappeared. Ah, glorious cloud cover!
* Brady throws a short pass over the middle to Tyler Johnson and Joe has no idea how Will Gholston didn't slap that pass back. He jumped when Brady threw and became a big red billboard.
* RoJo with a decent catch down the left sideline.
* The following play was so interesting for a number of reasons. Johnson went down the left seam and Sean Murphy-Bunting had excellent coverage on him. The coverage looked exactly like SMB had on Allen Lazard in the NFC title game in Green Bay where his pick of Aaron Rodgers late in the first half set up Scotty Miller's ground-shaking touchdown bomb right before halftime. SMB's coverage on Johnson was that good. However, there was a tiny window of an opportunity for Brady to complete the pass. That window wasn't much bigger than the football. And damn if that old geezer of a quarterback didn't put the biscuit in the basket. Unfortunately, Johnson bobbled the ball and couldn't hang on. SMB may have gotten a hand on the pass which caused Johnson to bobble it. Joe isn't sure what was better, SMB's coverage or Brady's throw. Ah, who the hell is Joe kidding? Brady's throw was sick. After Johnson went down, he immediately grabbed his ankle and it didn't look good. But he walked off and returned to the field later.
* The rest of practice, SMB was on Johnson like stink on the Panthers. Johnson was targeted three more times in practice and SMB locked him up each time.
* Just because there was some cloud cover and a bit of a breeze does not mean it was fall in Chicago. Mike Evans looked totally out of it. He was on the sidelines on one knee, his right arm leaning heavily on his helmet. Evans was bent over looking like he wanted to barf. A Bucs staffer came by and spoke with him and then gave him a bottle of water. For what seemed like the next two minutes, Evans took a drink of water, spit it out, took another drink of water, spit it out. Evans was making plays in practice, no doubt. But man, he looked like he was about to pass out.
* Ke'Shawn Vaughn, wearing No. 21 this year, lays out and catches a Kyle Trask pass along the left sideline. From what Joe has seen, it appears Trask is the No. 4 quarterback, currently. Let's just say Joe has seen Ryan Griffin practice more on Field No. 1 than Trask. (No, you thin-skinned freaks, this is not a blast at Trask. Just stating what Joe has seen. Nothing more, nothing less. Quit trying to read between the lines on everything Joe types about Trask where there is nothing to read between the lines. Joe is not anti-Trask, period.)
* Not sure who the coach was but he wasn't happy with that play as Joe heard a coach yell, "He had a hand on his f@cking shirt!"
* Two-minute drill! Playoff Lenny makes a nice run and once he got past the second level on the right side, he pulled up as the coaches blew the play dead. He began to slowly walk back to the huddle until a coach hollered, "Run Lenny, run!" Suddenly, Playoff Lenny realized the clock was ticking and he immediately burst into a sprint to get back to the line.
* This was a cool play but first Joe has to set the scene. In practices, offensive players not in a play often stand behind the running backs along with offensive coaches. The defensive players not on the field stand on the east sideline of Field No. 1. So when RoJo caught a pass along the left sideline, Vita Vea got his defensive teammates excited when he ran down RoJo for the tackle (looked like a horsecollar to Joe). The defense on the sideline hooted and hollered in appreciation of a big guy like Vea moving so quick to chase down a speedy guy like RoJo from behind.
* Gabbert rolls right and lofts a soft pass to Vaughn who makes a nice gain of it.
* Brady handles a high-and-to-the-right snap from Ryan Jensen and gets rid of the ball to Jaydon Mickens to the right.
* Brady launches a bomb down the right seam to the immortal Cyril Grayson for a touchdown. The fans come alive. Antonio Hamilton was fried on the play by Mickens. Safety Javon Hagan had help on the play but couldn't get over quick enough.
* Hello Joe! It's the first time Joe sees Joe Tryon on the field with the first-team defense. And damn he is quick. He got past his initial blocker on the right side and darted to Brady in a blink. Brady quickly unloaded the ball. Had there been hitting, Brady likely would have been splashed.
* Later, Joe noticed tight end De'Quan Hampton attempting to block Tryon. The result? Hampton was picking grass out of his face mask.
* In a walkthrough session, Darden apparently goofed up and Mount Arians erupted. Arians thundered at Darden, "What the f@ck did I tell you to do?"
* Later in his post-practice press conference, Arians gave Darden props for his performance, his work ethic and learning from his mistakes. Guess this is what Arians said he learned from Bear Bryant, "Coach 'em hard and hug 'em later."
* Arians was also peeved about the defense being offsides in a two-minute drill.
* Travis Jonsen made a nice catch of a Gabbert pass that was thrown behind him on a crossing pattern from left to right.
* On the last play of practice, Grayson lays out to catch a pass along the left sideline. But after he hits the ground, he immediately grabbed his knee. He was on the ground for a while but eventually got up and walked off the field.