Another Year, Another Beat-The-Heat Twist
July 27th, 2021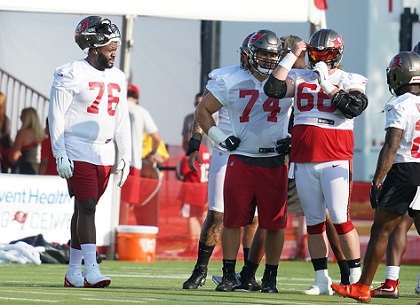 Joe's been around long enough to remember glorious two-a-day practices in pads with ferocious hitting at the University of Tampa.
And Joe remembers various summer philosophies of The Lost Decade head coaches working at the modern-era One Buc Palace.
It seems every coach was trying to figure out how to beat the heat and/or not let it beat you in the regular season or before September arrives.
Lovie Smith insisted on afternoon practices. "You practice when you play," Lovie concluded. His 2014 team trailed 17-0 on opening day to the Panthers at the Stadium on Dale Mabry Highway. His 2015 team got the snot beaten out of them by the Titans, which later secured the No. 1 overall pick in the draft.
Commander Greg Schiano was all about starting practice before 8 a.m. to save the bodies and sharpen the mind, and he liked night practice.
Joe could go on, but the point is that every coach views summer training camp differently. Bucco Bruce Arians, as fans read/will read in Joe's practice notes today, Arians marched his team to the Glazer Shed (aka the Bucs' indoor facility) to simulate an air conditioned halftime. The Bucs emerged about 10 a.m. after Arians lectured them on finishing practice like it's a game.
And the head coach was happy with the results.
How much Arians uses the Glazer Shed this summer is a mystery to media and fans. He promised to "beat the sh*t" out of his players with a rough training camp, but he used the Glazer Shed quite a bit in previous seasons. Arians relies a lot of his sports science/training staff, as well as his gut.
Joe has faith in Arians' ability to read his team and find a magic touch, unlike his predecessors.
Joe knows players, however, will continue to pray for clouds and rain and for someone to put a shade tent on the practice-field sidelines.