Bucco Bruce Arians Thanks The Media
July 29th, 2021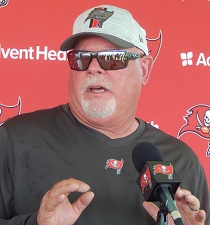 A day after his profanity-laced rant about sloppy reporting, Bucco Bruce Arians sang a different tune about those who devote their lives to covering the NFL.
Asked about savior linebacker Devin White growing his pass rush skills, Arians thanked those who critiqued him.
"No, I've got to thank all you guys in the media for that, telling him he couldn't cover," Arians said. "He got pissed and kind of took it to heart, so thank you guys."
Joe doesn't think the critique of White was off base. Heck, those who watch Bucs legend and White mentor Derrick Brooks right here on TAMPA TWO heard forms of it.
Like most young players, White had a weak spot in his game. He improved his pass coverage late last season, and White himself has said the media spin not only drove him, but it also got him to dive in a little deeper on details.
Now the question is whether White can continue to evolve in coverage. He's got to deliver a lot more consistency before anyone can declare him a superstar in the passing game (when he's not blitzing). But certainly he has the tools, the work ethic and the coaching to get there in a hurry.