Bruce Arians Wants Bucs Embracing Basics "Challenge"
July 17th, 2021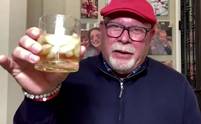 Training camp kicks off in eight short days!
Joe's been doing pushups, sit-ups and drinking the finest Big Storm beer in preparation, and listening to Bucco Bruce Arians.
Speaking to Silver Solutions, Arians explained his approach with the Bucs entering 2021.
"We have to go back to basics," Arians noted, adding that his minicamp plan was about pretending the entire starting roster isn't returning. "Put in the snap count like you never heard that before," he explained.
Starting from scratch doesn't mean a lack of confidence, it's a mentality, Arians said. "We should be able to pick up where we left off and got off to a great start. But we have to embrace the challenge of going back to the beginning."
Arians' goal could be a tough sell to a veteran team that has a White House visit and a ring ceremony next week — right before they embrace the 100-degree heat index of training camp.
Successfully injecting a back-to-basics mentality might take time with this group. Well, no, Joe takes that back, Tom Brady is still here.