A Consensus Top-2 Defensive Line
July 17th, 2021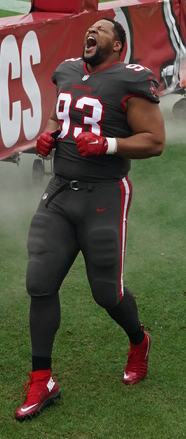 The Buccaneers with their hands in the dirt are finally getting big-time respect.
Bucs fans know history may reveal that the pass-rushing mix of Vita Vea, Shaq Barrett, Jason Pierre-Paul and Ndamukong Suh is the greatest ever to team up in the NFC Championship game and the Super Bowl.
Think about it.
And think about the accolades those guys might rack up in the course of their careers.
Suh is a sure bet for the Hall of Fame after his body of work over the past 11 seasons (5 Pro Bowls, 3 All-Pro honors, All-Decade team, two trips to the Super Bowl). And if JPP can continue his stellar play, he'll be looking at very special career numbers, as well as multiple rings and Pro Bowls.
Shaq already has the most sacks in the NFL over the last two seasons, and Joe wouldn't bet against the guy extending that to three. Vita Vea? He's one of the most talented in history at his nose tackle position, and his career is just getting started.
Throw in the Bucs having the best run defense in each of the past two seasons — and two very special linebackers — and you'll understand why Joe is constantly smiling.
Joe brings this all up today because NFL Network ran a feature this week on the best defensive lines in football.
Former Pro Bowl fullback Michael Robinson and Pro Bowl linebacker Lorenzo Alexander had no problem labeling the Bucs as having the best D-line in football — behind the Washington D-line that couldn't penetrate the Bucs offensive line in the playoffs.
What a great time to be alive!