Arm Watch
July 4th, 2021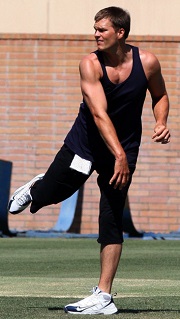 Before Tom Brady was signed by the Bucs, some Brady observers were questioning what was left of his arm talent.
Joe didn't think it was a fair assessment because the 2019 film didn't reveal it. What it did show was Brady throwing to washed out Mohamed Sanu and troubled Josh Gordon (each made six starts), in addition to one-2019-game-wonder Antonio Brown and 39-year-old Ben Watson at tight end, who retired after that season. Brady's second-rate tight end targets combined for one touchdown.
Sure, Brady had stud receiver Julian Edelman doing his thing on shorter throws in the middle of the field. But Brady's weapons were bad overall and limited his performance.
Bucs officials studied Brady after the 2019 season and concluded his arm was 100 percent.
Enter ancient Joe Theismann. The former Super Bowl quarterback and game analyst on Sunday Night Football and Monday Night Football (Has any other ex-player ever done both?) was talking to The Rich Eisen Show last week and strongly implied the Bucs and the Washington Football Team are clear favorites to meet in the next NFC title game.
Theismann explained he was blown away by Tampa Bay's offseason.
"In this day and age of money grab, it really caught my eye, very seldom do you see a championship team come back intact," he said, calling the Bucs defense "great" and Brady fully able to succeed in more than just the 2021 season.
What Theismann is fully keyed on when it comes to Brady is his right arm. He believes that's the critical tell.
"People wonder what's [Brady] able to do. Obviously he takes care of himself and all that stuff, but his arm is good," Theismann said. "As long as you have the ability to throw the football, you can play this game a long time. When the arm goes, that's the end of the business for you."
As for that Bucs-WTF inevitable showdown, Theismann says he's trying to keep his mouth shut and let other NFL analysts speak the truth for him.
"If I say it people will go, 'Oh, you're just a homer,"' he said. "No. All you need is to step back and take a look, this will be a top-3 defense, for sure. And defense wins championships."