Tristan Wirfs Talks Impactful Moments
June 30th, 2021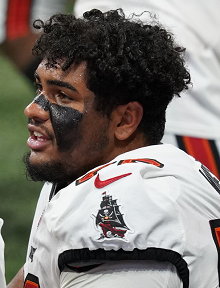 What's not to like about the Buccaneers' superstar right tackle?
Joe can't think of a darn thing.
Second-team All-Pro Tristan Wirfs is even a fun interview. You never quite know where he's going to go.
Weeks ago he joined old Iowa football friends on the Washed Up Walkons podcast and dropped a few nuggets of interest.
Asked about the coolest person to reach out to him during his Buccaneers days (people not on the Tampa Bay roster), Wirfs went with three-time Pro Bowler Kyle Long responding to him on Instagram before the NFC Championship game. That interaction fired up him even more to maul the Packers, he said.
Wirfs said he used to study Long when he played for the Bears. Ironically, Long unretired and now the Chiefs are hoping he can help fix their subpar O-line.
On learning the NFL is a business, Wirfs said it hit quickly — and hard.
"Your locker buddies with somebody one day and then you come back the next day and their stuff is gone," Wirfs said, without naming his lost Bucs pal. "It was like the fourth day of camp, I can't remember but the dude next to me, like all of his stuff was just one. That kind of threw me off."
As for Wirfs' growth at the pro level, it's very real, he said. He's not just winning physically. His football knowledge "has gone up a ton" along with "situational awareness," which he explained is night-and-day different between the Bucs and Hawkeyes.
As for following the TB12 method of fitness and diet, Wirfs isn't going there yet. He said Brady gave players some protein and electrolytes. But overall, Wirfs said "I don't really take supplements."
On a more personal note — and Joe publishes this in hopes of saving a life — Wirfs told a story about narrowly avoiding a horrific accident while texting and driving in Iowa before his Bucs days. And the way Wirfs laid out the tale, that came after another instance of getting his vehicle stuck in a ditch on a dangerous road.
Wirfs said he learned from the experiences.