Tom Brady Throws "A Friendly Ball"
June 27th, 2021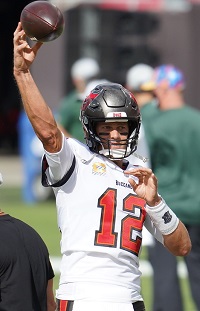 Not everything about a quarterback shows  on film and on the stat sheet.
Tampa Bay offensive coordinator Byron Leftwich played QB for 10 years and was coaching for three before Tom Brady became his student.
Leftwich saw impressive subtleties in person that he didn't pick up on until Brady arrived.
"You watch the tape of him and I knew his arm was still live; you know, you can tell he's still got a live arm. But then you get around him and you're like, 'Look at that ball.' It's the type of ball that he throws. It's a friendly ball. It's a penetrating ball," Leftwich described during an NFL.com interview.
That Brady arm talent and effectiveness is a mind-blower, per Leftwich, a culmination of a 20-year process. And it's never lost on the 41-year-old offensive coordinator.
"It's amazing to see the commitment that it takes to make sure you're capable of playing this long," Leftwich said.