Tom Brady Explains Old-Man Philosophy On Winning, Explains Improvement
June 17th, 2021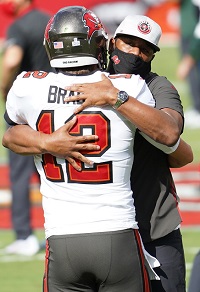 Joe's always up for Sage wisdom. Usually it comes from Ira Kaufman, but this time it's from Tom Brady.
Mr. Seven Rings sat down with the Tampa Bay Buccaneers' in-house video team for a recent episode of In The Current, a club production that's sort of a sanitized Hard Knocks.
One might think an old, successful veteran like Brady would savor and celebrate victories because he knows just how precious each one is. But that's not quite Brady's approach.
"When you get a little bit older, winning becomes a little bit of relief as opposed to, you know, a joyful celebration," Brady explained.
Man, that illustrated to Joe what a higher plane Brady operates on. It's like Brady celebrates every other year for a few hours after a Super Bowl and then moves on to the next grind.
Interestingly, he also dove into how it took time for players to build trust and "find their spot and their rhythm" and how that kind of adjustment makes confidence challenging.
And for Brady, it's all about confidence. That's a huge reason the Bucs should be far more dangerous out the gate in 2021.
"Great confidence leads to great execution. Great execution leads to winning football," Brady said.