"The Game Tape Shows That They Don't Do That"
June 16th, 2021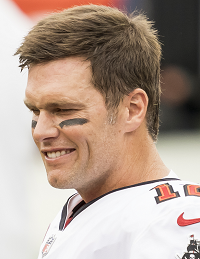 Yet another Tom Brady story from a legend who played with The Goat last season in Tampa.
This time's it's LeSean "Shady" McCoy stepping up to the microphone. A Bucs backup running back last season, the six-time Pro Bowler recently joined the Keyshawn, JWill & Zubin show on ESPN Radio and shared an example of the next-level genius of Brady.
When talking about the Bucs offense, Shady specifically mentioned Bucco Bruce Arians and Brady as the masterminds.
"There's times we have a game and an [opponent] for six weeks had been playing a certain defense," McCoy began. "And Tom will come into the offensive meeting room and break [them] down, 'They're going to play us in a Cover-2 or a Cover 3.' And we're like, 'What?? You know, the game tape shows that they don't do that.' Sure enough, they're playing Cover-2.' The experience level is such a difference."
Damn, it's like Brady is the Mr. Spock of the Buccaneers' starship.
Preparation and turning knowledge into performance success are areas where McCoy gives Brady a huge edge on Patrick Mahomes, the quarterback that led McCoy to his first Super Bowl ring during the 2019 season.
Interestingly, McCoy said after all the time he spent with Brady last season, he's very confident Brady will play at least two more years. "He's always talking about that," McCoy said.