"Terror" White
June 14th, 2021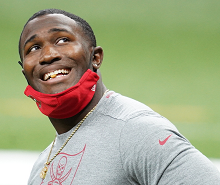 The Bucs' resident big talker, savior linebacker Devin White, now carries massive expectations on his back.
That's what happens when you're dominant in the postseason and are talking big every chance you get.
This isn't Joe slapping White. Joe loves White's bravado, and it seems like the NFL community respects him quite a bit, including hard-to-impress Warren Sapp. White even said sometimes he'll make a bold call because it gives him extra juice to live up to what he told the media.
Recently, Steelers stud young linebacker Devin Bush, selected five picks after White in Round 1 of the 2019 NFL Draft, threw plenty of love White's way.
Bush blew his knee out five games into last season and is working on his 2021 comeback.
"I watched [White] while I was out. I thought he had a phenomenal year last year, obviously winning the Super Bowl. He's on his way to being one of those guys that is going to be a terror as long as he wants to play," Bush said.
Joe's very eager to see how White grows and performs this season. At 23 years old in his third year in the Todd Bowles system, White should remain on a steep rise. White is too talented and devoted — and Bowles is too wise in his ways — to take have a status-quo year or take a half-step backwards.
Yes, White was crazy special late last season but he lacked consistency early. If White can become a game-in, game-out stud playmaker, the Bucs might just cruise to the No. 1 seed in the NFC.