Scotty Miller Talks About His Season-Long Injury
June 27th, 2021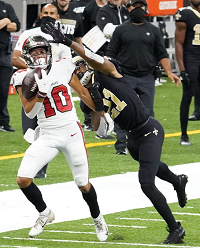 Hey, Tom Brady had a season-long knee injury last year that required knee surgery — but never landed on an injury report.
So would it really surprise anyone to learn another Buccaneer was in a similar boat?
Clutch speedster receiver Scotty Miller sounded like a guy trying to keep the extent of his 2020 injury quiet early in his interview with The Pat McAfee Show last week.
Miller was a no-show at Bucs spring practices, including the unofficial ones hosted by Tom Brady.
"My situation was unique. I had something going on with my body this offseason," Miller began. "So I was actually rehabbing [at One Buc Palace] while all the guys were doing OTAs. So I actually didn't go to any sessions with Tom this offseason. … If I was healthy, I probably would have been with Tom."
McAfee, the former Pro Bowl punter and Colts emergency QB under Bruce Arians, pressed Miller to share what was wrong with him.
"I was dealing with a groin injury all last year. Literally, the first game I tweaked my groin, so all season I was dealing with it," Miller said. "So I had to take care of it right after the Super Bowl. And then I got cleared right before minicamp — full participant and felt really good."
Joe's assuming Miller was talking about postseason surgery on his groin. Think about that; Miller was blowing by NFL defensive backs with a groin in need of repair.
What happens this year when he turns 24 and is bigger, stronger, healthier and faster?
As for Brady hosting his own workouts on his own time, outside the aura and eyes of One Buc Palace, Miller believes it was about building on a foundation set a year ago.
"It worked last year, so why not do it again; I think that was Tom's mindset," he said.