President Asked To Intervene To Help Undrafted Bucs Free Agent
June 20th, 2021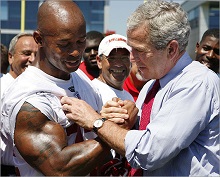 This doesn't happen every day.
Florida Senator Marco Rubio, whose wife was a Miami Dolphins cheerleader, is stepping in with a desire to change the Buccaneers roster.
More specifically, Rubio is urging the United States President, aka the military Commander in Chief, to grant a waiver for Navy cornerback Cameron Kinley to delay his military service so he can re-join the Bucs.
Kinley was in Bucs rookie minicamp and performed well enough to be welcomed to mandatory minicamp with Tampa Bay veterans in early June.
However, the Navy pulled the plug on the Naval Academy graduate and class president just prior to minicamp. It was a surprise, and a stomp to the groin of Kinley's football dream, as many past military grads have received waivers to play professional sports and then later start/resume their military careers.
Ever since, Kinley has been on a bit of a national public relations tour expressing his love for the Navy and his frustration at the inconsistency of the decision to take him off the football field.
Rubio says it's all unfair and wants action from the highest office in the land. You can read his full letter to the President here.
"Mr. Kinley is not seeking to terminate his commitment to the Navy," Rubio noted. "He wishes to promote service to our great nation from one of the country's largest stages. I implore you to right this wrong."
Joe hopes Kinley gets his shot with the Bucs. What's the harm?