Ndamukong Suh Talks Partnership Versus Dictatorship
June 8th, 2021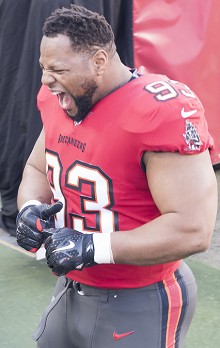 Instead of One Buc Palace, today Joe will call team headquarters One Buc Cooperative.
That was the vibe sent out by the senior member of the Tampa Bay defense, future Hall of Fame defensive tackle Ndamukong Suh.
Suh was asked after minicamp today about how Bucco Bruce Arians isn't a taskmaster and gives veteran players a lot of rope in crafting the organization's approach to them physically and mentally.
Suh replied by praising Arians for building a trusting environment for players and coaches, complemented by open communication.
And he lauded Arians for clear, realistic and fair expectations of players.
All all of that is a reason Suh may be in Tampa for many seasons to come.
"One my excitements of continuing to be here and being a Buc, and wanting to play for a coach like that, because it's not seen as I have to do different things," Suh said. "It's more or less a partnership versus a dictatorship is how I view the whole situation here. And it's something exciting that I'm happy to be a part of."
Great line by Suh, "partnership versus a dictatorship." Man, the Bucs have had many dictators as head coaches over the years. Some were listened to; some were tuned out.
None were anything like Arians.