Ndamukong Suh On Vita Vea: "I Would Be Very, Very, Scared Of Him."
June 20th, 2021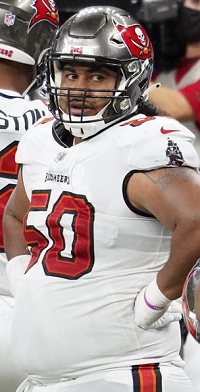 Three-time All-Pro Ndamukong Suh (where does he rank in the history of Bucs defensive tackles?) has issued a public warning.
It's rather simple.
Suh told Buccaneers.com that if the guy next to him, Vita Vea, stays healthy this season, the NFL should be extremely afraid.
"Vita's growth is really due to his own [work] and really just being able to not be afraid from a standpoint of understanding he doesn't know everything," Suh said. "And then being able to ask questions, and being somewhat vulnerable in the aspect of saying, 'Alright, I want to get better. I want to be able to do [things]. I want to be able to play at a consistent high level all the time because I obviously know I'm very gifted why I got drafted where I was.'

"The exciting piece is that he's only barely touching that iceberg that he's got. And it's a massive iceberg based on his size and his ability. So I would be very, very scared of him coming back to this season fully healthy as he's preparing very well for that."
Yes, Vea is one of the great X-factors of the Bucs' upcoming season. Suppose he does stay healthy and progress?
Joe was so damn impressed by Vea grinding out a comeback after a horrific broken ankle in Week 5. The drive and dedication displayed cannot be overstated. And then look how well Vea played upon returning deep in the playoffs.
Vea is a very special talent and player. Now he has to figure out lasting health, something that's eluded too many talented and special players since the NFL began 100+ years ago.
---
Enjoy the Ira Kaufman Podcast, presented by Bill Currie Ford.