Mental Speed Made Tristan Wirfs A Veteran
June 8th, 2021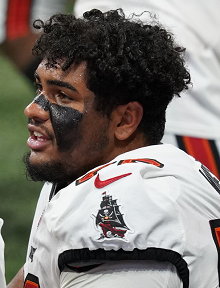 Last week we heard Bucs all-world manbeast right tackle Tristan Wirfs generously credit right guard Alex Cappa for being a key to his development.
Today, Cappa was back on the practice field after the broken ankle that cost him 3 1/2 games of the Bucs' four-game playoff run. Afterwards, he was asked to reflect on playing alongside rookie Wirfs last season compared to working with former Bucs right tackle Demar Dotson.
"I mean Tristan picks stuff up really fast. So it wasn't like that big of a transition," Cappa said, noting Wirfs' communication was so good all season that it was obvious he was on point.
As for the guy who replaced Cappa in the playoffs, Aaron Stinnie, Cappa made it clear that he didn't have a significant mentor role in Stinnie's success.
"I didn't have to do much. He's always working. He's always ready," Cappa said, adding that the entire offensive line was eager and ready to help Stinnie hit the playoffs running.
Lots of love and unity among this Bucs roster.