Bucs Pass Bruce Arians' No-Meeting Test
June 8th, 2021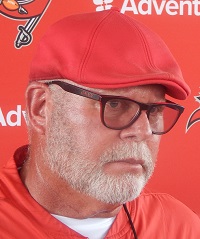 Bucco Bruce Arians was playing a little sports psychology today on Day 1 of mandatory minicamp at One Buc Palace.
Arians pushed all the right buttons last season and it seems like he's off to a great start in 2021.
The head coach explained that practice today began without a typical pre-practice meeting. It was a test, Arians said, of how much players were learning/absorbing/retaining from their Zoom sessions with assistant coaches.
"It was impressive," Arians said. "I thought quarterbacks hit some big-time audibles that we made and played correctly. And defensively, [we played] extremely well on our coverages and our adjustments."
Arians, as regular readers here know, does not participate in Zoom meetings with players.
Joe really appreciated this strategy by Arians. What a great way to send the message to players that they must be on a new level of accountability and readiness this season.