Byron Leftwich Talks "Becoming One" With Tom Brady
June 26th, 2021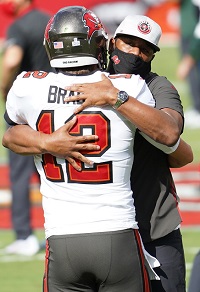 Some might look at Byron Leftwich's job as easy last season. Hell, he was coaching Tom Brady and calling plays for a loaded offense.
Others saw a huge challenge under immense pressure in a unique environment.
Joe certainly leans toward the latter.
In came Brady, and Leftwich needed a deft touch to not screw things up and get Brady and the offense peaking at just the right time.
Speaking on NFL.com earlier this year, Leftwich explained that he had a solid relationship with Brady before he arrived, so there was never any fear of clashing. It was all about bonding as quarterbacks and Leftwich understanding how Brady's body would respond.
The first goal was discussion — followed by more discussion.
"Let's start talking football so we can combine our thought patterns and become one," Leftwich said. "Because year-in and year-out, the offense is what the quarterback is. So I just wanted to build on our quarterback relationship as quick as possible, with the understanding that unless you know a guy, you can't really put him in position, or you can't really call plays for him and have consistent success. So I knew I had to learn him. I had to figure out what he likes, what he does well, how he sees things, how his body is going to react in certain situations, from a situational football standpoint."
As for the famous meeting at Leftwich's house, with Brady possibly violating NFL pandemic rules by meeting a coach (Brady mistakenly walked into the next-door neighbor's home), Leftwich said it was nothing more than a five-minute chat and handing off stacks of paper.
Leftwich said he and Brady are no fans of studying football on a tablet, so that meet-up was all about old school notes and playbooks.
Count Leftwich's synchronicity with Brady as perhaps the most underrated aspect of why the Bucs can be better in 2021.