Bucs Release Training Camp Dates & Details
June 24th, 2021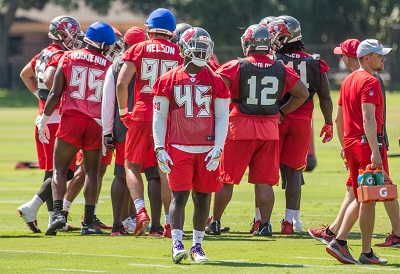 Training camp will be a different animal this season on the fields of One Buc Palace.
First, you'll need a digital ticket that costs $5.00. Second, it appears you can't get a digital ticket unless you're a season ticket holder or qualify under group-theme days — meaning there doesn't appear to be an Average Joe day.
The $5.00 fee is per ticket, the Bucs announced, and "proceeds" from the fee is going to the Tampa Bay Buccaneers foundation. The team news release does not say all the money will go to the charity.
The first practice of training camp is Sunday, July 25. Players will be in pads for the first time on Saturday, July 31.
Below is the schedule released by the Bucs, which is subject to change, including additional dates:
All sessions begin at 8:30 a.m. (for now). Covered bleacher seating will make its return!
Sunday   July 25    Season Pass Members
Monday   July 26   Stadium Club Members
Tuesday  July 27    Season Pass Members
Wednesday July 28  Season Pass Members
Friday    July 30   Season Pass Members
Saturday  July 31     Season Pass Members
Sunday    Aug. 1    Season Pass Members
Tuesday   Aug. 3    Season Pass Members
Thursday  Aug. 5     Military Day presented by USAA
Friday    Aug. 6     Women Of Red
Saturday  Aug. 7    Stadium Club Members
Monday    Aug. 9    Community Day- Special Olympics/Arians Foundation
Tuesday   Aug. 10   Stadium Club Members
Wednesday Aug. 11    Season Pass Members
Tuesday   Aug. 17   Stadium Club Members*
Wednesday Aug. 18   Season Pass Members*