Bruce Arians Has An Order And Praise For Ke'Shawn Vaughn
June 10th, 2021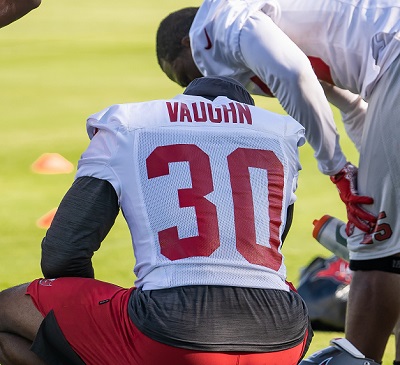 Ke'Shawn Vaughn is in a tough spot.
The second-year running back is playing behind a bellcow back who had the most efficient rushing season in team history, and he's looking up at a 26-year-old former No. 4 overall pick who just dominated in the playoffs.
Yes, Joe's talking about Ronald Jones and Leonard "Playoff Lenny" Fournette.
Today Bucco Bruce Arians was asked about competition for No. 1 running back this season and Arians sort of punted — even though he was just being honest.
Answers are coming in the summer, per Arians, and Vaughn has work to do outside his running backs corps.
"I think both those guys are starters in my mind," Arians said of Fournette and RoJo. "Whoever goes out first doesn't really matter to me, but that will be determined in camp. And, you know, Ke'Shawn has made a nice move but, you know, he has to be a better special teams player right now because of what's in front of him. But I have all the confidence in the world in him as a runner and a receiver."
Arians saying Vaughn "made a nice move" has Joe believing Vaughn impressed in mandatory minicamp this week and has found a place in Arians' head. But that might not be good enough to get him on the field.
Vaughn is never going to beat out Giovani Bernard for a third-down back role, which means he must improve his second-rate special teams game just to be activated on game days.
It's a tough spot for the young guy, but at least he'll have preseason games this season to tote the rock — a lot — and make a stand for playing time and (hopefully) improve on special teams. He didn't get that chance last season.