"We Just Had To Raise Our Standards A Little Bit More"
May 17th, 2021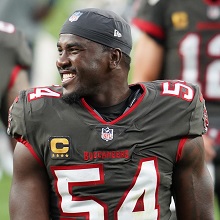 Fresh insight into The Brady Effect never gets old at JoeBucsFan.com world headquarters.
Joe is mesmerized how one man changed a franchise — and ownership on down readily admits it.
The CBS interview with Lavonte David was done just prior to the draft, but Joe is referencing it today after stashing it in what Joe calls "the ecstasy file," aka takes on Tom Brady fixing the bumbling Bucs.
David reflected on The Lost Decade of Tampa Bay football.
"We had people. We had players in place. But we never had that winning pedigree," David began.
The Bucs' superstar linebacker said Bucco Bruce Arians brought what felt like a healthy, winning attitude and approach, but it didn't work. And then, to quote David, "a remarkable thing happened."
Yes, that near-miracle occurrence was Brady relocating to Tampa.
"Just him bringing that winning pedigree to the locker room, a locker room full of guys who we know that are really good football players," David said. "For us, we just had to raise our standards a little bit more. To go out there and compete week in and week out, and [Brady] was able to bring home for us."
Raised standards. They're a beautiful thing.
Joe's always had high standards for the Bucs, or any team for which Joe cheers like a madman. Nobody wins with a low bar for excellence.