The Known, Unknown & Possible Regarding Tom Brady Privately Training With Teammates
May 25th, 2021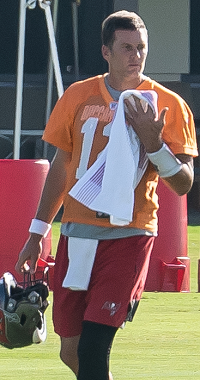 Joe sees a lot of confusion on social media regarding why Tom Brady and many of his offensive mates are training a quarter mile away from Bucs headquarters on a New York Yankees field when they have been blessed to do the exact same thing — on their own schedule — at One Buc Palace.
Per NFL rules, if a player trains on his own, he can suffer a "non-football injury" and potentially not get paid. On team property, your player contract will protect you from injury losses.
Bucco Bruce Arians says he told veteran Bucs starters to stay away from spring practices, so they can rest. But he says he also told them they can train at team headquarters without coaches to protect themselves, if they insist on working.
Well, Joe believes the gray area could lie in whatever Team Glazer feels about this and/or told Tom Brady privately.
It's reasonable to think Team Glazer advised Brady they would not punish any player who got injured training privately with him.
And perhaps Brady passed that message on to guys like Ronald Jones, Rob Gronkowksi and Chris Godwin, who worked with him this week at Yankees headquarters in Tampa.
Keep in mind that Joe has learned that Brady has video shot — and sometimes still photos — at his private workouts. That's so Brady can analyze his throwing mechanics and share everything with his throwing coach, Tom House.
So maybe Brady was able to assure Team Glazer that nobody would be injured horsing around, and he could prove it if necessary.
Joe also suspects there's a lot of ego involved. Brady made a big deal in a recent players union conference call about players not needing official spring practices and encouraged them to skip the voluntary workouts.
Lastly, about a year ago, Bucs legend Mike Alstott was on the Ira Kaufman Podcast and insisted that Brady and company would be far more productive growing as an offense practicing at a local high school. Alstott went on about how coaches can slow things down, and some guys breaking away to work on special teams can also detract from productivity.
Joe has no concerns. And Joe also thinks it would be way cool of Brady found a way to practice on the field of The Licht House, though Joe suspects it's not in pristine (aka safe) condition this time of year.