Shaq Barrett: "I Want The Sack Record. I Want To Be Defensive Player Of The Year."
May 17th, 2021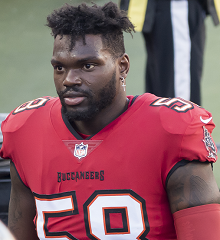 Get the hell out of Shaq Barrett's way.
The Bucs sacks king is not relaxing because he now has two Super Bowl rings and a fat new contract after making nearly $17-plus million last season.
On the contrary, Shaq is preparing to dominate in way that nobody has seen previously.
"This year, if I ain't DPOY (Defensive Player Of The Year), they out against me, they got something against me," Shaq told the Catchin' Fades podcast.

"Because I'm going to leave no doubt in anybody's mind. Like I'm going to leave no doubt this year. I'm doing everything possible, man, picks, [tackles for loss], sacks. I want the sack record. I want to be DPOY. You know the All-Decade team? I want to be the 2020 All-Decade team. I want everything, man. I want to win another Super Bowl. Like I'm so hungry now, man. I want to keep proving the people who believe in me right, but also all the people who doubt me I want to try and make [wrong]."
Damn, Joe is ready for the season. Just imagine how jacked up Shaq will be if he sack Dak Prescott twice on opening day and force a fumble.
Shaq added that he believes Steelers edge rusher T.J. Watt is the best in the game at his craft, and Shaq said he's been studying Watt and has been inspired to add to his game a greater focus on forcing fumbles.
Look out, NFL.
---
Enjoy the Ira Kaufman Podcast, with special guest Bucs safeties coach Nick Rapone.