Rookie Joe Tryon Predicts A Super Bowl Win For Bucs
May 4th, 2021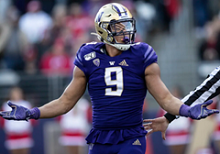 Mark it down, the new Bucs' first-round draft pick says the team is going all the way, baby.
Joe Tryon is the ferocious 6-5, 260-pound athlete/edge rusher the Bucs nabbed on Thursday night. He visited with SiriusXM NFL Radio to share his enthusiasm.
''They got a winning culture," Tryon said. "And once I seen that pick was on the clock, I knew I had a chance. You know, they told me if I was there at No. 32 they were taking me. When I got that Florida phone ID, man, my heart dropped. …I thought it was a joke, man. … "They're loaded at every position; that means we're going to win another Super Bowl. And I cannot wait to get in and mesh with the team.''
Joe loves Tryon's enthusiasm. Joe also had a laugh thinking about Jason Pierre-Paul telling the rookie that he ain't won sh** so maybe he should shut-up.
"I cannot wait to get to work," Tryon said. "I cannot wait to be a Buc and win another Super Bowl."
Tryon added that "he's ready to prove my worth.''
Fun fact, Tryon is a yoga enthusiast. "Gotta stay limber," he said.
Enjoy today's new episode.