"More Takeaways"
May 13th, 2021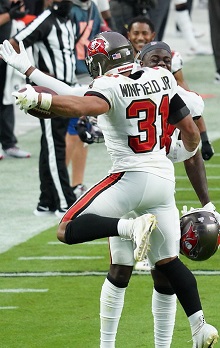 It didn't take long for Super Bowl Bucs safety Antoine Winfield, Jr., to spit out a personal goal for the 2021 season.
"Create more takeaways," he told the Behind The Mask podcast. "That ultimately gives us the best chance to win."
Perhaps Winfield loved the taste of his Super Bowl interception, the second pick of his long rookie season. Or maybe he's realized just how savagely critical his January forced fumble was against the Saints with 4:40 remaining in the third quarter and New Orleans leading 20-13 in the NFC Divisional Round.
Winfield explained that he grew up watching Hall of Fame safety Ed Reed dominate as a ballhawk, and he named Reed as his top defensive back after his Pro Bowl dad.
As a kid, Winfield said he was mesmerized by Reed and studied him on YouTube, presumably watching all 64 of his regular-season interceptions and nine in the postseason.
Winfield played 19 of 20 games for the Bucs last season and had two picks and four forced fumbles. If he can find just a few more turnovers to force this season, that could be the difference in the Bucs getting a critical No. 1 playoff seed.