More Perfect-Season Chatter
May 12th, 2021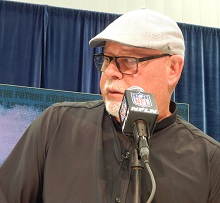 How good are the Bucs?
Joe has maintained many times on The Ira Kaufman Podcast that the 2021 offense, with Antonio Brown for a full season and Tom Brady minus a learning curve, could be the best in NFL history.
Seriously. The best offense ever.
Brown, Brady, Rob Gronkowski, Mike Evans and Tristan Wirfs may all be enshrined as Hall of Fame players one day.
The 2013 Broncos averaged an NFL-record 37.9 points per game, but they averaged just 18 points per game in the playoffs that season.
Last year, the Bucs put up 37 points per game after their bye week and averaged a whopping 30.75 points through four playoff games.
Would anyone be stunned if the Bucs challenged the record of those 2013 Broncos?
Below is a list of teams with the highest points-per-game average through the last 11 seasons.
Think about it. The Bucs' receiving corps is upgraded with Brown available a full season and young guns Scotty Miller and Tyler Johnson now having valuable experience. The young running backs are more seasoned and the Bucs added dynamic veteran RB Giovani Bernard. The defense is on a roll. And maybe, just maybe, the Bucs found a better punt returner in rookie Jaelon Darden.
For Joe, barring injuries, that easily could add up to one more touchdown per game.
2020 Tampa Bay 30.8, Green Bay 31.5, Buffalo 29.9.
2019 Ravens 33.2, 49ers 29.9
2018 Chiefs 35.3, Rams 32.9, Saints 31.5
2017 Rams 29.9
2016 Falcons 33.8
2015 Panthers 31.3, Cardinals 30.6
2014 Packers 30.4, Broncos 30.1
2013 Broncos 37.9
2012 Patriots 34.8, Broncos 30.1
2011 Packers 35.0, Saints, 34.2, Patriots, 32.1
2010 Patriots 32.4
Former Bucs QB Chris Simms, now a premier NBC Sports analyst, spoke on PFT Live today after co-host Mike Florio hinted at the Bucs being in position to gun for a perfect season. Simms was adamant that the Bucs are on the rise, rather than being a little stale after being with the same head coach for a bunch of years.
And Simms noted the team's late-season improvement and no learning curve with everyone returning for 2021, as well as Bucco Bruce Arians not being a coach that will drag the Bucs down by adding pressure.
Joe's not screaming for a perfect season. It's unrealistic. But it's certainly not unrealistic for fans to be treated to the greatest offense known to man.
Enjoy today's Ira Kaufman Podcast