"Maintenance" Is On Players' Minds
May 20th, 2021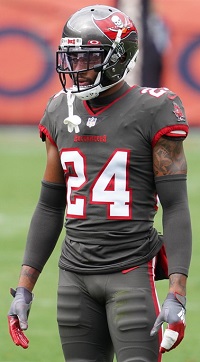 Tampa Bay cornerback Carlton Davis wants Bucco Bruce Arians to take it easy.
And he says he's not alone.
Davis was asked recently for his feelings on a 17-game regular season, as the first extra-game campaign is on the way in 2021.
It's blessing to be able to perform in front of hundreds of millions of people, Davis assured the Behind The Mask podcast, but that entertainment quality fans adore late in a season could be in jeopardy.
"Guys are more so concerned about the maintenance of it, you know, how we're going to be able to keep up our bodies to give that performance that you want to see — that entertaining gravedigger performance that we're capable of doing," Davis said.

"It's not about how many games you play, it's about the longevity of it. You know, you just being able to make those 17 games and not being run into the ground because, you know, camp was about four or five weeks or the practices were just as hard.

"So I think it's about recovery, making sure the players are able to get to that game at their peak. You know, as long as the league agrees to keep up with our maintenance and allow us to be able to perform at our top-notch level, the entertainment the fans love to see. As long as we're able to do that, I think guys will be ok with [17 games]."
Davis went on to talk more about how training camp runs players into the ground and he suggested it should be easier since there's an extra game this season.
Joe found that intriguing since Bucco Bruce Arians plans to be cracking the whip come July. "I'm going to beat the sh*t out of them," he said.