It's Official: Cowboys At Bucs
May 12th, 2021
So it is now written in stone. The Bucs host the Cowboys to open the season.
The Bucs kick off the season on Thursday night, Sept. 9 on NBC (WFLA-TV Channel 8, locally). Primetime. Before the nation's eyes.
The NFL had a slick marketing angle this morning. With so much anticipation surrounding the NFL schedule release — only the NFL can manufacture a pseudo-holiday — the NFL allowed its broadcast partners to announce their NFL schedule for Week 1.
So on FOX and Friends, the Today Show, CBS This Morning, Good Morning America, BSPN's "First Dump," and of course, "Good Morning Football" on NFL Network, the Week 1 schedule was announced.
Behold the first week's schedule below courtesy of John Breech of CBS Sports. The rest of the schedule will be released tonight at 8 p.m. on NFL Network.
The NFL's Week 1 schedule is officially out, mark your calendars now.

Some highlights:
Cowboys at Buccaneers (Thursday opener)
Bears at Rams (Sunday night)
Ravens at Raiders (Monday night)#NFLSchedule #Cowboys #Raiders #Buccaneers pic.twitter.com/OTY6QBnuMA

— John Breech (@johnbreech) May 12, 2021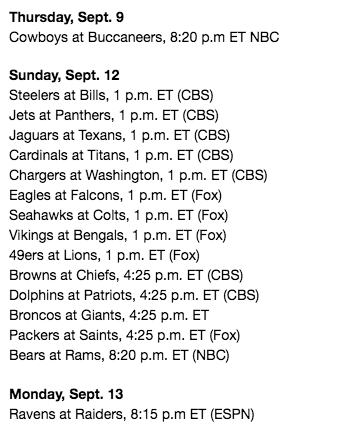 Sweet old school NFL Films music.#PonySoldiers https://t.co/Qsg4ppz8yx

— JoeBucsFan (@JoeBucsFan) May 12, 2021