Gamblers Like The Bucs
May 11th, 2021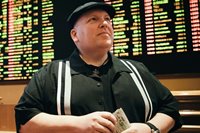 Joe isn't sure what all of this means in the end.
If you are a lucky man (woman?) who lives or works in a liberated if not forward-thinking state where one can legally wager on sports, the majority around you is betting on the Bucs. A lot of cash is going in Tampa Bay's direction.
In fact, per David Purdum and Doug Kezirian of BSPN, the money-favorite to win the Super Bowl is — the Bucs.
(Joe never imagined typing that last sentence in May. My, how things have changed around these parts.)
More bets — and more money — have been placed on the Tampa Bay Buccaneers to win the Super Bowl than any other team at William Hill sportsbooks.

Super Bowl wagering

Top five by bets:

1. Buccaneers
2. San Francisco 49ers
3. Cleveland Browns
4. Kansas City Chiefs
5. Green Bay Packers

Top five by money wagered:

1. Buccaneers
2. Chiefs
3. 49ers
4. Browns
5. Los Angeles Rams
Think people that bet on the Packers are sweating these days?
The Bucs are a really popular team now. The nation's team? Well, not yet.
But if the Bucs repeat, the national Bucs fanbase will explode if there's no retirement party for park-violating, home-invading, NFLPA-ignoring, down-forgetting, handshake-stiffing, jet-ski-losing, biscuit-baking, tequila-shooting, smartphone-phobic, waffle-grilling, trophy-throwing, roller-coaster-scared, numbers-rules-peeved, Bucs-Super-Bowl-winning quarterback Tom Brady.
That could mean many more nationally televised games in the future.